WHAT IS A DROP SET- TRAINING TO FAILURE?
What is a drop set (Training to failure)? In my initial years of training, somebody extremely savvy person makes known to me that if I do 3 static sets of each exercise and stay on this lifelong. I will be on my way to BUILD MUSCLE.
Firstly, when I am not known to anything about fitness I followed this for a year blindfolded and in that time my muscles grow really good, but as we should never forget that the progress is never linear but sinusoidal.
Same happens to me and I got hit by a plateau in the middle and got stuck at a point.
And In those hard years, my results BAFFLED me enough that I went back to that same person, asked him "what to do now"? he told me "sir, don't worry be consistent and you will get over this", after which I really followed his tips and tailed them for a year more.
I did all the workouts; this time with much more weights and reps until I get exhausted (normally 25-30 reps), yet didn't observe any progressions which I wished-for.
A lot of this was because of worry and having unrealistic expectations with my body over a short time.
MAIN REASON BEHIND ALL THIS:
What I feel about why I am not growing is, that of a fundamental misconception I have about training science. I didn't know how to manage stress and load over a body.
Hell, Also I didn't know how to build an exercise plan for me and neither my trainer knows.
Every time I go to the gym I do 3 static sets of every exercise of every muscle group and finish.
Although I follow the progression principle likewise training has also a lot to do with Periodization, different cycles of training, reps, deloading factor, supersets, drop sets which I am highly unaware of.
What I learned from years of training experience is- Now I understand how my body responds to the training which is a most important thing to learn.
what I missed in those YEARS is?  I never listened to my body.
Or say, I don't even know what that implied. The main reason behind my long years of shoddy training.
But NOW I know the science of training and how to shuffle my training intensity and reps to hit every single muscle and make them grow is an ultimate skill I learned.
So the purpose of this article "WHAT IS A DROP SET- TRAINING TO FAILURE?" is to let 2 kinds of people know some principles.

1.) One is who think hitting every set till the last/ failure (REP 0) is good thing to do. (TRAIN LIKE A GORILLA)

2.) And second are those who till this time do 3 regular sets of each exercise excluding supersets, drop sets without using any of the loading techniques.
What is a Drop set- Training to failure?
It clearly means taking your muscle to the extreme point where you couldn't lift a single more rep of a dumbbell. (Not similar, Read next…)
It is taking a muscle to the point of transitory weariness.
Drop set implies by his name that when this set gets finished you have to drop the weight by 5-8 kg and do some more reps and again drop the weight till then when you can't finish any more rep with a good form.
If you are still able to do 1 more rep this means you are unable to hit RIR-0 and, you haven't gone till failure.
Here is the point where the muscle has spent its full supply of ATP, which is the fuel of your muscle which is to be used as energy. Once it gets finished the muscle requires 1-3 minutes to rinse out lactic acid and make more ATP for the body.
Actually, more LACTIC ACID develops in muscle when you take a set to FAILURE than when you do static usual sets.
Once the temporary tic aclacid is removed from the muscle, now you can again do some form of other resistance training!
You can also lift some lighter weight, and can do a couple of more reps at that time regardless of whether your muscles failed to lift a heavier weight.
Training to failure with every set with heavy weights every time without having a proper watch on the training principles and without having a proper nutrition to recover well, will possibly lead to an injury.

How training to failure (Drop set) helps in building muscle?
The idea of drop set was that you could finish a single set of each exercise, as long as you take that set to failure. (Means this set volume is your final volume of a set.)
It sounds more like a time expedient approach to exercise. 
But the fact is- Doing this drop set technique can enormously lessen training volume and the exercises can be finished in a lesser time.
This is untrue when you consider hypertrophy gains- volume still plays a significant role!
And the load too, In regular 3-4 sets of each exercise training can give you more volume than alone a single set of the drop set. And also Time under Tension of a muscle is higher in static sets.
But the idea here is not to do a single set of drop set which we take to failure.
"Instead, Apply drop set technique at the end sets of the exercise hence the volume of the set can be managed and the muscle can be trained and torn to its maximal capacity."
Is drop set important in each exercise or each session of training?
Researchers found out that drop-set is a more good way to boost your strength and muscle size than just draining the muscle out.
The higher number of reps in a drop set makes more muscle harm and this can fill in as a strong way to build more muscle.
In addition, when you perform reps until the point where the muscle comes up short, you use more fast-twist muscle fibers, which promote strength and power.
.
In other researches, we found out that, training to failure didn't increase the volume of training which violates the PROGRESSION principle.
And the one training (3 static sets and 1 drop set) which did increase the volume, after some time their results are not satisfactory because you need an extra push through these drops sets technique to hit a PLATEAU.
Some people get great advantages of drop sets while others don't.
As said earlier, there are some possible downsides and upsides to drop sets. Which we will talk further in this article.
POSSIBLE CONCERNS ABOUT DROP SETS?
OFTEN USING TRAINING TO FAILURE TECHNIQUE INCREASE CATABOLIC EFFECT:
Training to failure is not for everybody and training with failure too regularly may, now or later, mess with your hard-gained muscles.
Once you take sets to failure over and over again, the stress builds upon your body. Which is need to be MANAGED!
Major concerns:
1.) This can activate the coming of cortisol hormone (stress hormone in your body), that create a catabolic effect to your muscles. Furthermore, training to failure as often can lessen the development of growth hormone IGF-1, produced by the liver with anabolic properties.
2.) Also training to failure supports levels of a protein called AMP, a substance that flags that a muscle cell is tired of strength. A height in AMP kills muscle protein production to save energy also help in muscle repair and muscle development.
That is not what you need in case if you're struggling to gain muscle. You need anabolic boosts!
Risk of Overtraining:
The other issue with drop set training is doing it time after time can prompt overtraining.
Overdoing of sets can lead to physical soreness and, pain.
That is the reason why you would prefer not to try too hard with drop sets if you are not ready for this.
SAMPLE OF DROP SET: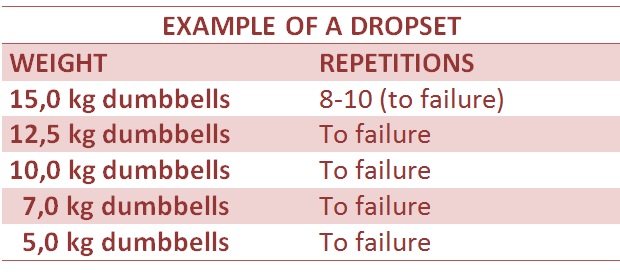 Rules for Training to Failure:
The promise is you don't need to train to failure for muscle development. In any case, doing a few sets to failure may jolt your muscle which is needed to break a PLATEAU, however, don't do it regularly.
If you go for a FAILURE SET then, give your muscles a more long time to recover. At least have a gap of 2-3 days when you try to drop set technique in any of your exercises…
The other thing which you need to remember when training to failure is that DO it at the last of your SET not prior not in the middle of a set. So it doesn't lessen your training volume.

If you spent 2-3 years in the gym, then only look forward to incorporating training to failure in your exercises. Have a look on your nourishment and rest. Because your body and CNS require quality rest period to work that hard again and recover.

Few SETS TO FAILURE can enable you to impact through a plateau, however, utilize this thing reasonably.

First, develop a standard level of strength before introducing this training tactic that places extreme stress on your body.
BOTTOM LINE:
Look Training to failure is not for everybody, especially not for the ones who are new to the gym because their bodies do not acclimatize to the type of training which put massive stress.
So there are some rules and questions you need to ask yourself first jumping to the rack for training to failure. HAVE A LOOK.
What is my training experience?

Can I handle excessive stress on my body?

Is my nutrition is on point to recover from this training?

Am I sleeping enough?

Am I hit by a training plateau?

What is my goal?

What Exercises Are I am going to Perform?
If you answered all these questions in a Yes way!
They to you need to consult with your trainer about making a plan for applying this and most IMPORTANTLY ask your body Am I ready to do this!
You will find an answer for yourself.
However, experimenting with your body and training is a way and a good thing to do!
When you entered the gym TRY-ERROR is the only way by which you could find how your body responds and what are you capable of. THE ROAD TO SUCCESS.
ENDING
Thanks for reading the article "WHAT IS A DROP SET- TRAINING TO FAILURE?"
Hope you liked the content and have some questions and views on the topic for which you can write to us in the comment section below.
Don't forget to subscribe to our newsletter for more updates and like us on facebook and twitter.
ALSO READ: